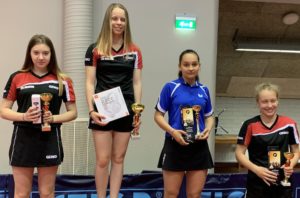 Finlandia Junior Open 2019 is over. Particularly in G17 it was possible to enjoy girls' table tennis on level not so often seen in Finland. The picture shows the winners – read the story below.
Overall, Narva dominated the older categories while Ängby was overall strong in the younger boys' categories.
The results are here under the title "Tulokset". Please note that the web page unfortunately places the "conso" cups not in the "conso" class but in the main class results, under the main class cup.
B10
B10 finals was a pool between Elmer Furustig/Ängby, Yuri Afanassiev/PT Espoo, Egor Savelev/TTSPORT RUS, Ert Arpo/Pinx, and Emil Gjörling/Ängby. Already played matches stood. Gjörling entered the finals day with most points won and he kept his place until the end. Furustig was second, Afanassiev third, Savelev fourth and Arpo fifth and Kerdo Aros/Pinx won the consolation.
G12
The finals were played as a pool between Yixin Yang (PT Espoo), Veera Räsänen (HIK), Ella Kellow (MBF) and Maria Zavronkova (Narva) with pool winners Yang and Zavronkova looking favourites. Zavronkova ended up as a clear winner, without giving a single set to the opponents. Kellow got second place, Yang third, and Räsänen fourth.
Varvara Chichova (Sosnovyi Bor) won the consolation.
B12
Top seed Matias Vesalainen (KoKa) won his group but in other groups the winners were foreigners: Oskar Lindh (Ängby), Richard Ljunggren (Ängby), Konstantin Sokolov (Narva), Elmer Furustig (Ängby), and Egor Savelev (TTSPORT RUS), with some groups being very tight. Finally, Vesalainen collected the gold winning Ljunggren in the final. Sokolov and Helmer Liden (Ängby) took third places and Tristan Bunge (Ängby) the consolation.
G14
G14 finals was played as a pool with Maria Girlea (HarSpo), Raili Nurga (Pinx), Anastassia Melnikova (Narva), Anita Kostap (Pinx), Arina Litvinova (Narva) and Ella Kellow (MBF). As games already played stood in the second round, the group winners Girlea, Melnikova, and Litvinova were favourites. And indeed, Melnikova won first place with Girlea second. However, Raili Nurga (Pinx) got the third place with Litvinova finishing fourth.
Maria Zavronkova (Narva) won the consolation.
B14
The initial group winners were Konstantin Sokolov/Narva, Matias Vesalainen/KoKa, Arseni Farforovski/Narva, Mihkel Arak/Pinx, Turo Penttilä/HIK and Richard Ljunggren/Ängby. Farfarovski finished on the top, beating Vesalainen in the final. Third places did not go to initial group winners, but to Mihkel Arak (Pinx) and Leonid Pullinen (LPTS), and consolation went to Oskar Lindh (Ängby).
G17
G17 finals was played as a pool between Maria Girlea/HarSpo, Vitalia Reinol/Narva, Anastassia Melnikova/Narva and Arina Litvinova/Narva. Girlea was the only non-Narva player in the finals pool and the prospects did not look so good as she lost to Vitalia Reinol in the initial pool and those matches stood in the finals pool. However, as Melnikova won Reinol, everything seemed possible with Girlea, Melnikova and Reinol finally in equal points. However, as Reinol won Girlea 3-1 and the other matches between the three finished 3-2, better set ratio gave Reinol the first place, with Melnikova second and Girlea third. Litvinova finished fourth. Anni Heljala/Por-83 won the consolation.
B17
The group winners (Stanislav Strogov/Narva, Daniel Tran/TIP-70, Mihkel Arak/Pinx, Lauri Hakaste/MBF and Arseni Farforovski/Narva) were challenged by the rest. While Tran's initial group was very tight, the rest of the group winners lost very few sets if any.
As it turned out, Strogov was the dominant player, losing only one set, and that happened in the final against second place Farforovski. Third positions went to Tran and Lauri Hakaste / MBF. Mihkel Arak (Pinx) won the consolation.
A big Thank you to everyone for participation and welcome next year!